If you know someone who is having a baby this summer (two of my sisters-in-law are having girls!), here are seven (okay, twelve) books sure to be treasured by baby and parents.
Duck and Goose
by Tad Hills. There are lots of
Duck and Goose books
, but in this original, Duck and Goose have rivaling ideas of what is best to do with the egg they find together. In the end a surprise leaves them both happy. It is a subtle reminder not to sweat the small stuff and to stay on the same team in parenting, although the book is about the silly adventures of two friends.

Seven Hungry Babies written by Candace Fleming, pictures by Eugene Yelchin. This tale of a nearly indefatigable mama bird feeding her chicks one by one is lyrical, funny, and relatable. This book would be especially appreciated by a mom of multiples or subsequent children, though I appreciated it when my mom gave it to me while I was pregnant with my first (and only).

Goodnight Moon
by Margaret Wise Brown, pictures by Clement Hurd. I almost didn't include this because it's on every list out there, but I couldn't help myself, because it was the first book I bought Baby A while I was expecting her. The soft rhymes are soothing to newborns, and really, to anyone. It's nearly impossible to read it without lowering your voice, slowing down, and feeling calm. Buy it from a bookstore nearby, with the receipt taped inside, so that if they get a duplicate you can exchange it for another book on their list (or this list).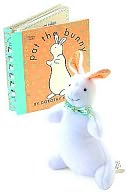 Pat the Bunny
by Dorothy Kunhardt. Another obvious choice, I know! This makes a great first interactive book, because there aren't parts that tear off, and it has a little mirror. If you'd like to spice it up, go for
Pat the Cat
or
Pat the Puppy
by Edith Kunhardt. My copy did not hold up very well (the pages tear away from the binding and the ribbon comes right off the bunny). Although it is a board book, it is a thinner cardboard than other board books, so it will not withstand any mouthing. But because it is so beloved, it is always in stock--so, easily replaced. Another fun texture book:
Tails
by Matthew Van Fleet.
My Animals
by Xavier Deneux. The simple white-on-black illustrations are visually stimulating, particularly for newborns, but have details for older babies. Also: the
Elmer
books by David McKee are like a visual festival for newborns.
The Very Hungry Caterpillar by Eric Carle. This book truly grows with the young reader, and is educational for newborns and first graders alike. Baby A and I enjoy this book in the oversized board book version. If the parents already have this Eric Carle book, go for the less popular, but also beautiful Mister Seahorse or The Tiny Seed.
Winnie the Pooh by A.A. Milne, illustrated by E.H. Shepard. There is a reason this book first published eighty-six years ago is enduring--it is as touching and relatable now as it was then. It is a chapter book, but it is never too soon to collect classics for a nursery.
What would you add to this list? Do the soon-to-be-parents you know register for books?