I told you before I was going to the Tulip Festival, and I thought you'd like to see what a beautiful afternoon it was:
coy pond- Baby A's favorite, and where her left shoe had a near-death experience
little wood bridges crossed a rambling stream
a grapevine tunnel led to a secret garden
Baby A exploring rows of tulips
water cascaded down these hillside steps, a statue at the top and a pool at the bottom
funny face, waterfalls in the distance
Baby A prefers to do the pushing
And now that you're all garden-inspired, some books to read aloud with your twolips: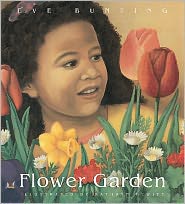 Flower Garden by Eve Bunting, illustrated by Kathryn Hewitt, catches the enthusiasm of a daughter preparing a surprise windowsill garden. It is simple enough to read to a baby, but has words such as "trowel" and "geranium", and concepts such as anticipation and the transplanting process, that make it adaptable to older audiences, perhaps best for ages 4-7. An early reader would enjoy reading this, studying the lifelike face and bright flower illustrations. Published in 1994, the only dated aspect is the characters' attire
, (which I find nostalgic.)
Eve Bunting also wrote Butterfly House (1999), illustrated by Greg Shed. A longer, lyrical picture book, it seems like a memoir of her grandpa helping her raise a butterfly, and watching butterflies in her garden (although, I think it is completely fictional). The illustrations are soft and sun-drenched, reflecting the sentiment of the text. A guide to raising a butterfly is included in the back of the book. I picture a grandparent reading this book to a 9-11-year-old before raising a butterfly themselves.