The magazines I read are a mash-up of thinly veiled and not-at-all veiled advertisements, plus targeted journalism and research presentation, in the form of deeply relevant socio-economical topics, awareness, or quick tips. I realize they're mostly silly, but I'm a hold-out enthusiast for magazines when it comes to short, casual reads on the couch or in the car.
Children's magazines are silly in the good way. They have targeted educational articles, plus fun activity pages or ideas, and they usually don't have ads! There is a reason doctors offices stock Hilights. Magazines provide a fresh load of information and activities, which can be tossed into the recycling bin after use. They're great to have on hand during times which require quiet and/or patient waiting from children, (think: church, the post office line, longer car rides, or dull shopping trips).
I can personally vouch for the quality and fun of these ones:
Any of the
Cricket
mags. Carus Publishing produces educational and thoughtful content geared to every age group from 0-3 years to 9 years+.
Cobblestone
has fascinating history articles,
muse
will satiate the ultra-curious, and
Cricket
is my all-around favorite.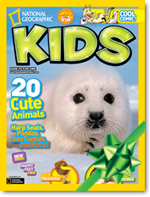 National Geographic Kids
is an excellent mini of National Geographic for the 6 years+ explorers. It has basically the same elements of the grown-up version: photography; awareness and study; plus science and geography. You can start even younger with a mostly animal-focused
National Geographic Little Kids
. Their
website
is fun for school-aged kids, too.
Now I want these for myself--how will I wait another year and a half to order them for Baby A?
Do you subscribe to any children's magazines?