Baby A and I hooked up the bike trailer and met some friends at a pioneer monument park turned festival.
Baby A and I sat in a 1917 fire truck. The owner lent me his antique firefighter cap! Classic cars and fire trucks don't have much to do with Utah's history in particular, but Utah sneaks classic cars in to any summer festival.
Utah's festivals aren't complete without some farm animals, either. The calf brayed (it hadn't mastered the moo) so loudly it frightened the young children.
The most relevant photo to Utah's history is of Baby A in a teepee.
Not pictured: 12 craft stations, food stands, live bands on stage, pioneer museum, and a mass of face-painted children ushered through lines by their parents and grandparents. Oh, and posters with fun facts, like that Utah's state fish is the Bonneville Cutthroat Trout.
And here are a couple of fun books that celebrate Utah: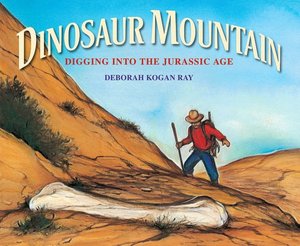 Dinosaur Mountain: Digging Into the Jurassic Age by Deborah Kogan Ray digs into the history of the "Bone Wars", and the monumental discovery of an enthusiastic paleontologist, Earl Douglass, in Utah's rocky northeast.
I think I'll get it as a keepsake for Baby A--she's been to all the places featured in the book!
Does your state or region have a holiday?